A complete range of top performing hole saws
Cutting holes requires extreme precision and high-quality workmanship relies on the finest of tools. The Research and Development Team at CMT Orange Tools® is proud to introduce a brand new series of outstanding cutting tools: the 550X and 551X Hole Saws.
Suitable for working wood and plywood, MDF and laminates, plasterboard, plastic materials, building materials, steel and metals, the 550X and 551X Hole Saw series provide greater versatility than the standard hole saw and deliver dependable cutting precision.
Thanks to the new XTREME FAST and PUSH&LOCK Systems, with a single arbor, hole saw changes from one series or diameter to the next, are quick and hassle free. Compatibility is also guaranteed with our previous FASTX4 Hole Saw system.
Click here to discover the new 550X and 551X hole saws here:


550X and 551X Hole Saw Series
550X hole saws are great for working the following materials:
Softwood, hardwood and plywood

MDF, veneer, laminate

Plaster/plasterboard, fiber cement

Plastic

Fiberglass and acrylic glass

Floor tiles
551X hole saws are great for working the following materials:
Metals (up to 1000 N/mm2 strength).

Mild steel

Stainless steel

Non-ferrous metals, aluminium

Sandwich materials

Cast Iron

Copper, zinc, brass
550X and 551X Hole Saws: How to Enlarge an Existing Hole
Enlarging an existing hole has been simplified!
Replace the standard XTREME FAST adaptor with one in the 550-PA05 Hole Enlargement Kit that corresponds to the thread type of your hole saw.

Mount and fasten the larger hole saw. Next, insert and fasten the smaller hole saw inside it, made possible thanks to the long version adaptor.


Note: the smaller hole saw corresponds to the dimensions of the existing hole

.

Start drilling. The smaller hole saw functions as a "guide pin".

If desired, dismantle the smaller hole saw and finish drilling with the larger hole saw.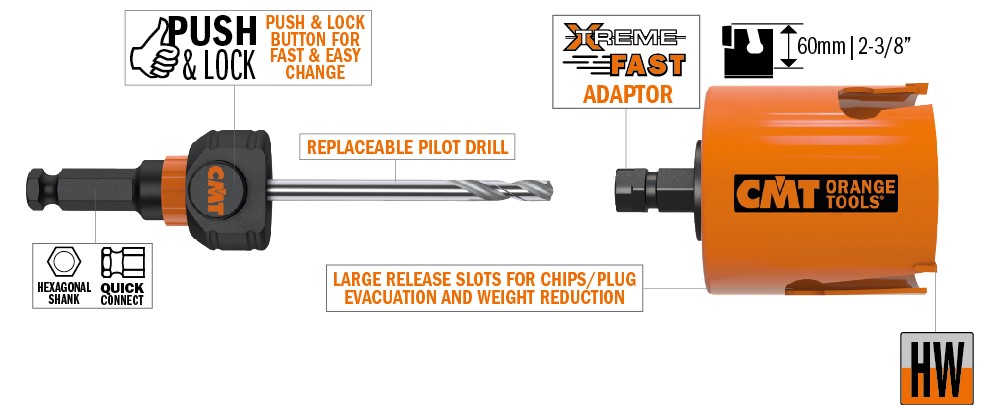 Orange Tools by CMT
For over sixty years, CMT Utensili SpA has specialized in the production of cutting tools assisting builders, craftsmen, carpenters and hobbyists achieve their goals. Years of extensive investment in Research & Development and countless hours of product testing with partners and collaborators, has made it possible to create high quality performance solutions, backed by the Made in Italy grant of quality.
Do you want to know more about our
orange tools
? Discover the CMT 2022 Catalogue.