Beautiful clean edge on your finished piece

These razor-sharp, double-faced cutters made of special Fatigue Proof® steel and micrograin carbide can withstand even the heaviest work load and still give you a smooth, precise cut every time.

Exceptional chip ejection to allow cleaner and more constant cutting.

Surface of all CMT bits is protected with our trademark orange non-stick PTFE to help keep the bit from collecting resin, pitch and other residue.

Every bit is submitted to strict quality tests to guarantee perfect cutting tolerance, balance and concentricity. CMT bits allow production on an industrial scale using a variety of plywood, composites and natural woods.
Never use damaged or worn bits.

Always work at the recommended proper feed rate without forcing the bit.

Pay particular attention when making the initial cut with a small diameter bit.

For best results when working with small diameter bits, make the cut in more than one pass.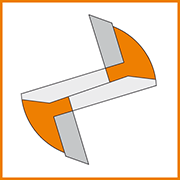 The sharpened cutting edge on 9mm diameter bits or larger are perfect for short plunging operations.

* Warning!!
912.623.11:​​​​​​
Warning: Long cutting edge.
Carefully make several shallow passes to prevent damaging the tool.
The warranty does not cover improper or incorrect use of the tool.